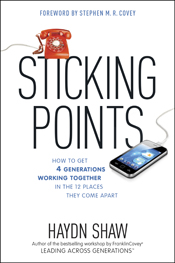 In Sticking Points, Haydn Shaw opens our eyes to a common source of conflict in today's workplace. We have 4 generations attempting to work side by side: the Traditionalists (born before 1945), the Baby Boomers (born 1945-1964), Gen X (born 1965-1980), and the Millennials (born 1981-2001). Each generation employs their own preferred forms of communication. Problem identification and resolution differ across the generations and each group expects something different from the work experience. Shaw identifies the major differences and offers methodologies to unite the groups at the discussion table.
I started reading, only to find myself completely hooked by page 14 where the shoes known as flip flops, sandals, or thongs, depending on your generation, are discussed in detail. I realized the author was speaking to me. Reading Shaw's work evoked a new respect inside me, a rigid Boomer, as I consider the tattooed, pierced, flip flop wearers strutting into work at the crack of noon, and texting during meetings.
As a professional engineer, I appreciated Shaw's logical presentation of the material. The book is well-formatted and will serve as a useful reference work. Shaw presents summary charts giving generational overviews as well as a wrap-up of generational specifics for each of the 12 sticking points. The book is filled with practical examples.
I highly recommend this work for anyone managing a workplace. The book should be required reading for pastors, elders, deacons, and other leaders in local church congregations. The inter-generational conflicts Shaw outlines are just as widespread in the church as they are in the workplace. Our church families could benefit from a healthy dose of generational awareness.
Note – Tyndale provided a complimentary copy of the book to facilitate the review.